Originally posted on the Conquest Catholic Youth Ministry website.
For several years, a Challenge club has been very active at St. Margaret of York parish in Loveland, OH. Based on that positive experience, the pastor Fr Jan Schmidt was very supportive of a new Conquest launching. Dads Jeff Thomas and Ted Bort rose to the challenge and kicked off the first ever Conquest club meeting on October 30, 2015. Eighteen boys in grades K-4 met to grow in the virtue of obedience, watch a video on Moses, eat cupcakes and play lazer tag.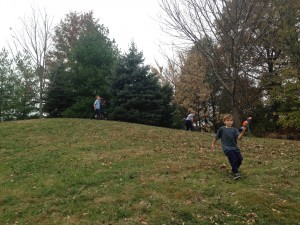 Fr Daniel Brandenburg and Br Vinh Pham were there to support the start of the club.